About the Event
Sunday, May 17, 2020 @ 7:00am
3000 Weston Parkway
Cary, NC 27511
Event Overview
The NCRC Classic Half-Marathon & 10K Races are now in their 22nd year and considered to be two of the Triangle area's premier distance races.

In 2019 over 500 runners registered for one of the two events. Omar Wiggan (1:25:17) and Erin Taylor (1:28:16) took top honors in the half-marathon while Nils Menz (36:37) and Britt Johnson-Broache (46:24) were the top finishers in the 10K.

Both the 10K and half-marathon have USATF certified "out-and-back" courses that start on paved road, transition through crushed-gravel and the hard-packed bridle trails of Umstead State Park, and finish on pavement. Both the 10K and 13.1 courses officially close at 10:30 a.m.

The race headquarters in 3000 Weston Parkway in Cary for your GPS.

The NCRC Classic Half Marathon is part of the Second Empire 2020 Grand Prix Series (you must participate in the Half Marathon to receive points). Runners who participate in these races accumulate points and are awarded money and prizes at an awards banquet held at the Second Empire Restaurant at the conclusion of the Series.




Runner Information
What's New:
If you've run this race in the past, there are a couple of changes this year:
Sunday packet pickup is at 3000 Weston, across the street from last year
Approved parking is at Bass Pro in Harrison Square
​Baggage check is available at Sunday packet pickup
Registration/Packet Pickup:
If you choose, you can pick up your race packet on
Saturday, May 18th
between
2pm and 6pm
at:
Omega Sports North Hills
4120 Main at North Hills St,
Raleigh, NC 27609
(919) 420-1913

We will begin race day registration and packet pickup at Race HQ (Hoganas Building, 3000 Weston Parkway, Cary, NC 27513) at
5:30am
on
Sunday, May 19
.
Registration Changes:
Picking Up For Others: Bring a copy or photograph of their id
Half to 10k: bring your half marathon bib to late registration and I will re-assign you a 10k number
10K to Half: same instructions, the cost to change is $20
Transfers: The new runner come to packet pick up with a photo of your id. I will have them fill out a new registration form so we have their correct information for scoring. There is no cost to transfer
Baggage Check:
Because parking is not convenient this year, we are offering baggage check if you are picking up your shirt and number on race day. We will have clear plastic bags and index cards available, write your race number and last name on an index card and put it in the bag so it is visible.
Course Maps:
Half Marathon -
http://www.usatf.org/events/courses/maps/showMap.asp?courseID=NC09008DF
10K -
http://www.usatf.org/events/courses/maps/showMap.asp?courseID=NC09007DF
Race Start:
The Half Marathon starts at 7am
The 10k starts at 7:15am
Pacers:
We have pace leaders for 1:40, 1:50, 2:00, 2:20, 2:30, 2:40, and 2:50 finish times for the half marathon.
Weather Policy:
The race will take place rain or shine. If we need to cancel the race in the event of inclement weather it will not be rescheduled.
Race Day Parking:
Unfortunately this has been a difficult year to securing parking. The building where we normally hold the race is under construction and many surrounding businesses have declined my requests.
Approved parking is at
Bass Pro in Harrison Square
801 Bass Pro Ln.
Cary, NC 27513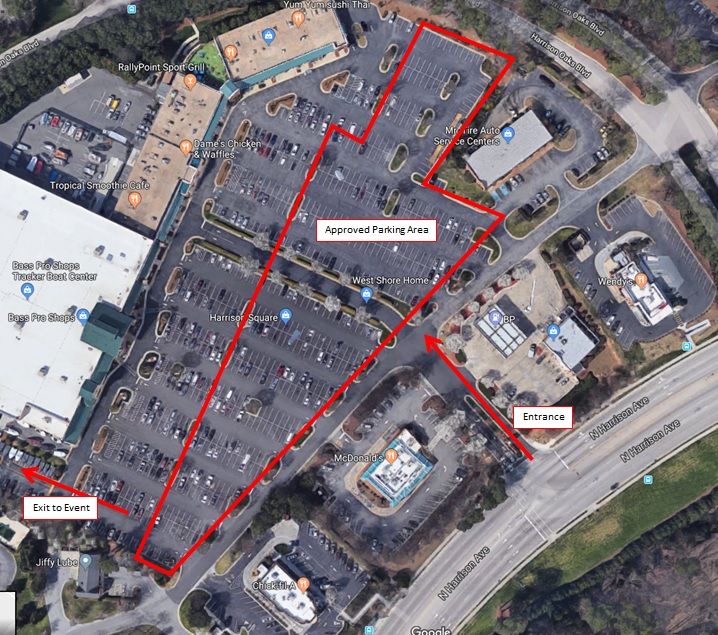 To get to registration:
Walk to the left of Bass Pro to Harrison Oaks
Turn Left on Harrison Oaks to Weston Parkway
Turn Right on Weston Parkway
Race registration is at the Hoganas building off Old Reedy Creek
It is about a half mile walk, give yourself plenty of time in the morning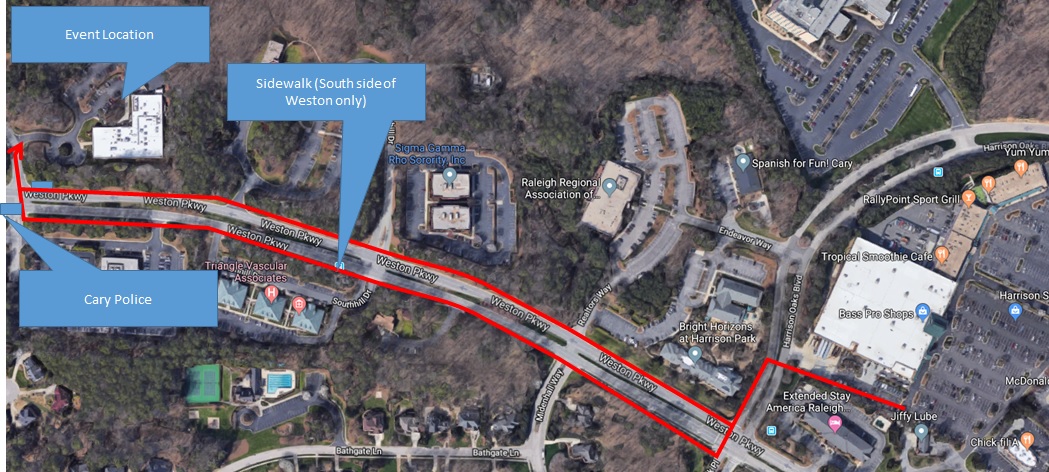 If you are running warmup, sidewalk is available on the on the opposite side of Weston
Runner Safety:
May mornings in North Carolina are typically hot and humid, Sunday's forecast is 68F at the start. Please hydrate before, during and after the race.
There are water stations at miles (approximately) 1.5, 3, 4.5, 6, 7, 8.5, 10 and 11.5 that will serve water and Gatorade on the Half Marathon course and at miles (approximately) 1.5, 3 and 4.5 on the 10K course.
Mobile EMS crews will be patrolling the course and there will be an EMT and RN at the Finish area.
Course Etiquette:
Both the 10K and Half Marathon courses are out-and-back so please stay to the right at all times especially when approaching the 10K and Half Marathon turn around areas.
Please do not drop trash on the course! There are ample water stations with trash cans along the course.
The course is not closed during the race so you may encounter cyclists and other runners in Umstead State Park.
Race Reminders:
Your timing chip is attached to your bib. Please do not bend or remove the timing chip.
Please pin your bib to the front of your shirt visible to our race staff.
T-Shirts:
We have ordered extra shirts for late registrations.
Shirt sizes can be exchanged after the race
We will distribute remaining shirts to runners who did not receive one with their registration.
Shoe Donation:
1Red Shoe Reality is collecting shoes at their booth. Bring your old shoes for donation.